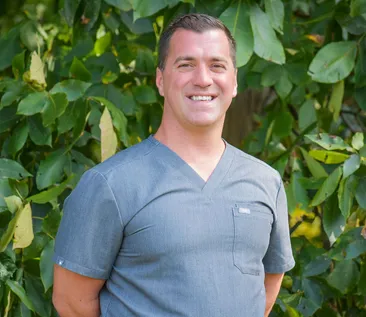 Patrick Donohue, DC, BSN:
Specializing in traditional chiropractic care
My uncle and his two children are chiropractors, so early in life, as a three sport athlete, I was able to witness the benefits of chiropractic care through my own personal experience. I studied Biology and Nursing in my undergraduate studies. I went to Parker Chiropractic College in Dallas, TX. I began practicing in Newtown, PA in 2006 caring for all ages from newborns to the elderly. I am nationally board certified in chiropractic and physiotherapy.
In my office, I use gentle, hands-on techniques along with the use of instrumentation depending on the patient and their needs. My location is also equipped with a gym, personal trainers, massage therapists, nutritionists and a physical therapist to create an environment that maximizes the success of my patients. I pride myself on being thorough, genuine and making every experience a good one for each patient. In my downtime, I enjoy spending time with my beautiful wife Rebecca, step-son Jake and daughter's Kacey, Alexis and Molly. If you are looking for a safe, natural and inexpensive way to repair arthritic joints, please contact my office.
Thank you for taking time to find out more about me. Hopefully, this website will serve you well in making the right decision on where to get your healthcare questions answered.
CLICK HERE for a video introduction. If you have questions regarding chiropractic please visit my Q and A page.
Hours:
Monday 11 am - 7 pm, Wednesday 9 am - 12 pm, Thursday: 11 am - 7 pm, Saturday 9 am - 12 pm